What Is Barbiecore? A Pink Way to Pep Up Your Home
"Cottagecore" gave us folksy comfort, and "coastal grandma" let us pretend we were Ina Garten
"Cottagecore" gave us folksy comfort, and "coastal grandma" let us pretend we were Ina Garten living our best Hamptons life. But there's a new decor kid on the block, and you might recognize her from when you played with dolls.
It's "Barbiecore," a shiny, pink home look that's sweeping Instagram and TikTok feeds with all of its girly gorgeousness.
This sweet but none too subtle interior style is taking off big-time, thanks to the sneak peeks we've been getting of next summer's hotly anticipated "Barbie" movie from director Greta Gerwig, starring Margot Robbie and Ryan Gosling. Swoon!
Kylie Jenner is also responsible for the resurgence of the pink-clad doll and all she represents.
"Kylie Jenner's [home] has pink shag carpet, bubblegum pink swivel chairs, and even Barbie artwork on the walls," says Elise Armitage, a design and lifestyle blogger at What the Fab.
But how did we get from the Barbie camper on our 9-year-old's bedroom floor to a billionaire beauty mogul and her many followers channeling the look at home? Read on for the details.
The 'Barbiecore' backstory
The first Barbie doll hit the market in 1959, but she truly hit her stride in the 1970s with the release of Malibu Barbie, who was living the California dream in her soft pink bathing suit.
The Barbie aesthetic has also recently enjoyed a resurgence on the fashion runway, then spreading into our home furnishings from there.
"Fashion has long taken ideas from Barbie's signature looks, but I think it was Valentino's fall/winter 2022 collection centered around her signature bright pink color that brought the icon's looks back to life," says Armitage.
Barbie is also dipping her toes into the digital world.
"The brand is having a big moment now as it's partnered with Balmain to create NFTs," reports Noel Fahden Briceno, vice president of merchandising at Chairish, whose site has a special section of Barbiecore furnishings.
Nostalgia plays a big role in the Barbiecore trend as well, since many homeowners can recall playing with the Dream House, dressing Barbie for dates with Ken, then zipping them around their own shag rugs in the branded pink and purple convertible.
"Although Barbie has been an icon for over 60 years, this trend feels bright, cheery, and youthful," says Briceno, "which is exactly what we need after the doom and gloom of the past few years."
How to decorate with Barbiecore without going overboard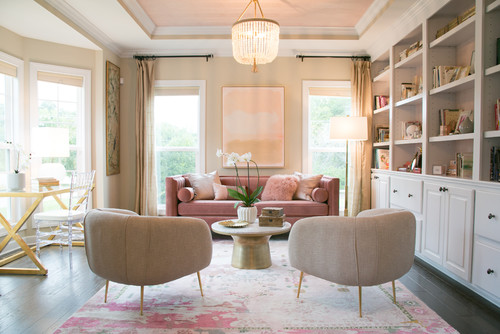 Bringing Barbie into your home decor is a delicate task to be sure, as an overload of Pepto-Bismol pink or fuchsia may cause a migraine.
"Start with small touches to see if the trend is for you, such as a throw pillow in pale pink or pink artwork in low-traffic areas," suggests Armitage.
Even better, give this design vibe over to your kids.
"Your child's bedroom or even the home office could be a great space to go all out with Barbiecore," Armitage adds.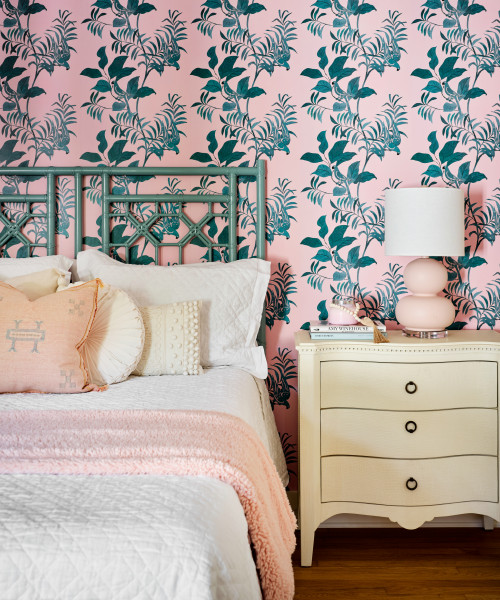 Briceno suggests a combo of pink shades, perhaps "mixing light, playful bubblegum pinks with deeper berry tones and raspberries to make this look feel a little more elevated."
Try pink laminate
Briceno says Chairish shoppers can't get enough of these rosy lacquer case goods.
"These statement pieces are proving that pink laminate can, in fact, be neutral, and we're finding elements of this trend throughout homes of all different styles," Briceno says.
With two drawers and a slim profile, this rounded wonder is an excellent bedside or end table ($495, Chairish).
___
Watch: 7 Top Design Trends Taking Over in 2022
___
Mix in gold accents
If a vintage side table is too pricey for your taste, this utile tray has lots of the same appeal. The glossy finish and golden handles make this ($43, Amazon) the perfect dresser topper for perfume and framed pictures. Or corral your prettiest books and set them atop your coffee table.
Choose two tones at once
New bed linens are an easy way to try a new trend, especially if the ones you choose reverse to a different color. (Choices!) This well-priced set ($56, Wayfair) comes with the coverlet and two shams and washes up well in the machine, making it a smart option for a college-bound kid.
Embrace fringe and tassels
Focus on frills and fringe, recommends Briceno. This pillow fits the bill nicely and is reminiscent of Barbie's sparkly flapper dress, which she wore in the special edition Barbie Flapper collection. You can remove the insert from this soft accessory ($29, Kohl's), and it spot-cleans nicely in case of spills.
Collect some curves
"The fun part about Barbiecore is the mix of styles—think postmodern meets traditional chintz meets old Hollywood glam," says Briceno.
A swirly floor mirror in dusty pink (from $200, Etsy) works well in the bedroom or your foyer so you can check your outfit before heading out.
Be playful—literally
"Nothing goes more hand in hand than Barbiecore and Beverly Hills—and this backgammon set ($360, Chairish) hits all the right spots: pink, green, and a hint of sparkle," says Briceno.
Display it on a wide ottoman to inspire heated matches!