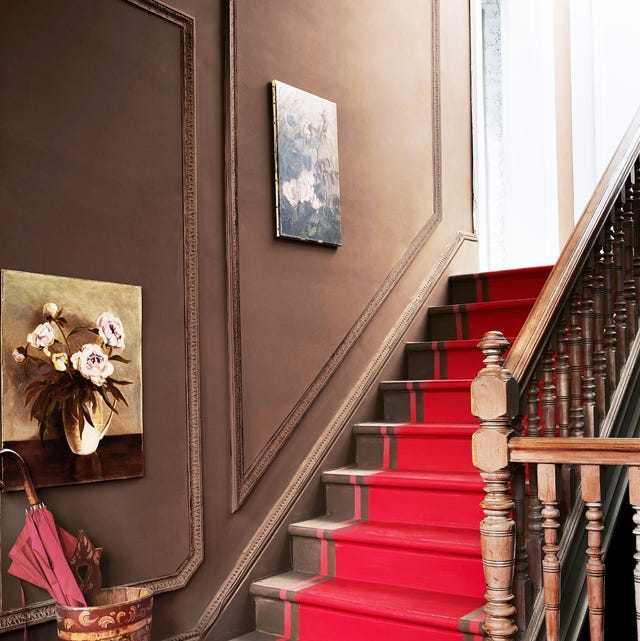 Annie Sloan
Some people have a natural eye for design, but if you're more in the camp of those who can't do anything without consulting Pinterest board upon Pinterest board before making any major changes, we feel you. And even those of us who leave and breathe interior design, some inspiration and guidance never hurts. We'd love to have an interior designer on speed dial before deciding exactly where and how hang to hang that sweet new wall art we bought on a whim so we don't make any major mistakes. But until we win the lottery, we'll have to settle for trusting our guts, and taking plenty of decorating tips where we can get them. We've compiled some secrets straight from the pros to help you with all your decorating needs.
1 of 58
Transform Eyesores
"In this basement remodel, we would've had to spend a ton of money rerouting the HCVA air duct. Who wouldn't go with ballet-slipper pink instead?" — Max Humphrey
2 of 58
Add Faux Molding
"There was no ceiling molding and no molding around the doors in this apartment, so I added them with paint!—Aldous Bertram
3 of 58
Don't Be Afraid to DIY
"If punk rock has taught me anything, it's to do everything yourself. All of my favorite interior designers were self-taught."—Max Humphrey
4 of 58
Fake It 'Til You Make It
"Do something groovy on the actual steps! The bolder you go, the bigger the smile when you see them." — Fawn Galli. Here, a painted on runner by Annie Sloan looks just like a carpet.
5 of 58
Mix Old and New Decor
"Old and new belong together. A mix of modern pieces and antiques never tires."—Caleb Anderson
6 of 58
Liven Up Ordinary Spaces With Wallpaper
"I love to use wallpaper in mundane spaces. Hallways, pantries, powder rooms—all become moments of joy and funkiness. Areas of transition can be places you enjoy spending time in."—Fawn Galli
7 of 58
Choose the Right Bulbs
"Choosing the right light bulb is very important. LED bulbs are energy efficient, and they can look great."—Paloma Contreras
8 of 58
Try Out Wicker
"Wicker is an element I love for its texture and versatility. Wicker baskets are so functional for storage, but a wicker animal brings a sense of whimsy." —Amy Berry
9 of 58
Upgrade Your Light Switches
"Update your light switches! Elegant controls add a spectacular element to an older home or character to a new one." —Courtney Hill
10 of 58
Even Rentals Can Get an Upgrade
11 of 58
Invest in Antiques
"Great art and fabulous antiques only get better with age. It's better to cry once and have a forever piece."—Chandos Dodson Epley
12 of 58
Trust Your Intuition
"Follow your gut. If you have to talk yourself into liking something, you probably don't."—Olivia Erwin
13 of 58
Use the Ceiling to Redefine the Room
"Look up! We use ceilings a lot. Through them, we
…