30 Freestanding Bathtubs You'll Want To Relax In
Maridav/Shutterstock Who doesn't want a functional bathroom with an aesthetic that beams with relaxing vibes? There are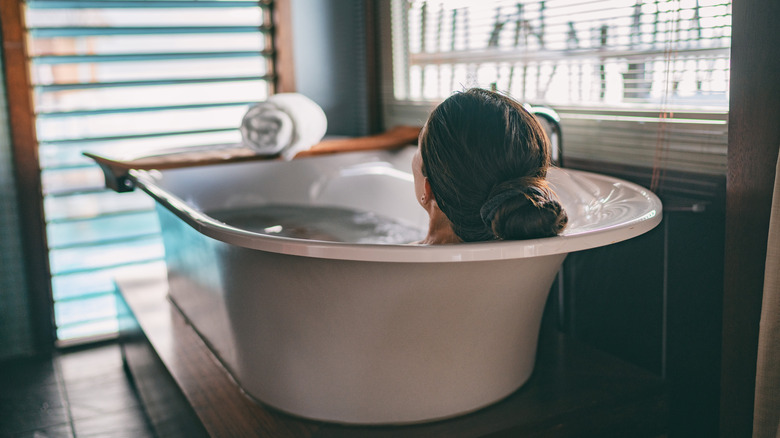 Maridav/Shutterstock
Who doesn't want a functional bathroom with an aesthetic that beams with relaxing vibes? There are many routes you can take when designing your bathroom, but in the end, you want to be able to walk around in a space that feels open, bright, and easy to use. If your bathroom is large enough, try installing a freestanding bathtub, as it makes the area look bigger and provides more open space below and around it, per TR Construction. Once installed, a freestanding bathtub has the ability to make your bathroom look like a spa.
So if you want a bathroom that feels less crowded and more relaxed, why not take the next step and start looking at some different styles? There's a plethora to choose from to fit any design aesthetic and color scheme. Take a look at a few styles we've pulled to determine which will work best in your bathroom.
1. Round edges
This modern bathroom design with black paint and wainscoting has been made to look softer with the freestanding bathtub. Its bright white color and curved edges soften the overall look to brighten up the design and prevent the black paint from consuming the whole visual of the bathroom.
2. By the window
This bathtub with a curved top — which makes it seem easier to get into from the middle — has the best spot in the bathroom. You can lay right by the natural light, and if you need privacy, you can pull the drapes and enjoy the soft glow that seeps through the fabric.
3. Straight lines
One way to create a harmonious design is to ensure everything has a similar shape and direction. This freestanding tub has straight horizontal lines that lead to the shower, which also has similar lines and directs your eyes towards the walk-in closet.
4. Contemporary tub
This primary bathroom was designed with beautiful curves seen throughout the focal point. The curved, freestanding bathtub sits inside a cove by a large window with an arc design, and the top of the ceiling follows the same pattern. This created a bright and stunning focal point in the room that arrests your attention.
5. Elevated rustic design
This rustic bathroom is elevated in so many ways; from the blue accent wall to the beautiful chandelier, it has it all. However, the freestanding bathtub with silver legs, shown in a unique design, is what ties the whole bathroom together.
6. Thick edges
The freestanding tub in this bathroom has square, thick edges — providing a perfect spot to place candles, flowers, or a glass of wine as you soak in the tub. It's also by the window, giving you a beautiful view of the green trees as it invokes an air of freshness. 
7. Traditional design
This traditional, clawfoot, freestanding tub has elevated the overall simple design of this bathroom. Although not much décor is present, the large window, natural light, and contemporary design pieces create a pleasing visual. 
8. In the shower
There has been a recent trend of placing a freestanding tub in the shower, and we're all for it. This is an excellent option if you want to track minimal water on the bathroom floor if you fear tripping or marble discoloration. 
9. Lean back
This elegant look is completed with a bronze clawfoot, freestanding tub by the window. The tall back is a great feature for those who require a decent amount of back support to relax.
10. Deep tub
This freestanding bathtub is designed with a large depth, perfect for those who want to be completely submerged. It gives off a more private experience as the walls of the tub completely enclose you.
11. Soft visual
This elegant and sophisticated primary bathroom is traditionally designed with a diamond floor pattern and a glossy, white tub. The curved edges of the tub go along with the soft, beige monochromatic design; however, an option with sharp edges would stand out and disrupt the flow of the space.
12. Add seating
This gorgeous bathroom with soft shades of blue has created a relaxing visual. The freestanding tub sits effortlessly in front of the mirrored wall, and the cushioned bench placed nearby is perfect as it provides ample seating. It also offers an ideal spot to drape your clothes and towel over as you take a dip.
13. Accents
This freestanding tub is accented with a black edge at the end of the rim. This makes it a great addition to a modern bathroom with other black design features.
14. Baroque master bathroom
This bathroom has elements of a baroque design with its warm shades of stone — although it appears to be made of porcelain — throughout the floor and on the walls. The freestanding tub has a luxurious element due to its bulbous curvature in the middle, and it complements the overall traditional design of the bathroom.
15. Golden feet
This bathroom is also designed with a baroque theme but with more touches of gold. The freestanding tub has beautiful gold claw feet to complement the gold hardware seen throughout the space. The tub also has a perfect spot by the window, between two walls that designate its area.
16. Lighting
At night, your artificial light should be functional and aesthetically pleasing. These wooden cone pendants do a great job lighting up the bathtub as they hover above it. 
17. Pick a color
A green freestanding bathtub may not have crossed your mind, but it's definitely something that can benefit traditional designs. Here, it complements the green colors in the wallpaper, while the white on the inside of the tub brightens up the area.
18. Bowl-shaped
This primary bathroom is the definition of luxury. The large, freestanding bathtub sits upon a wooden platform and is bowl-shaped to create the perfect amount of legroom. There's a small side table placed nearby to create a spot where you can place your bath products.
19. Vase-shaped
This vase-shaped freestanding tub is perfect for those who don't have much space. It opens up more room on the floor to avoid cramping up your bathroom, while the top of the tub is wide enough to create proportions perfect for its surroundings. 
20. Wooden surround
This tub is freestanding, but they've created a wooden surround by extending the wood from the wall and fitting it around the top. This beautiful, organic visual creates a surface to place any items you need nearby.
21. Bathtub bling
This modern, all-black bathroom is brightened with this shiny, freestanding tub covered in mirrored mosaic tile. It reflects the natural light while also harmonizing with the overall dark theme.
22. Wooden design
This wooden, freestanding tub is perfect for designs with a Scandinavian or Japandi theme, as it has warm, neutral, and organic components. The stones nearby and the cement floor create a zen space.
23. Matte black
This freestanding tub takes the form of a traditional shape; however, it's more modern due to its black color and matte texture.
24. Long tub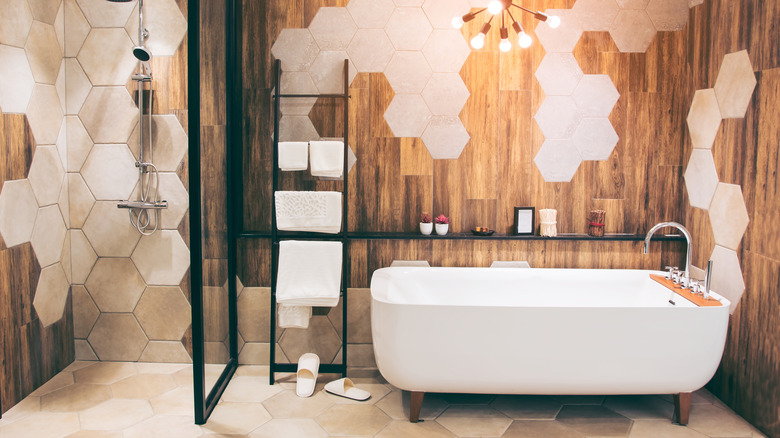 gan chaonan/Shutterstock
This freestanding tub seems like the same length as a traditional, mounted tub, but instead is lifted with wooden legs. Because it's freestanding, the space feels more open, but you can enjoy the length of it when you take a dip.
25. Green and gold
gan chaonan/Shutterstock
You can never go wrong with a green and gold combination, and this bathroom does it beautifully with this freestanding tub. It has created a stunning focal point that complements the artwork behind it.
26. Industrial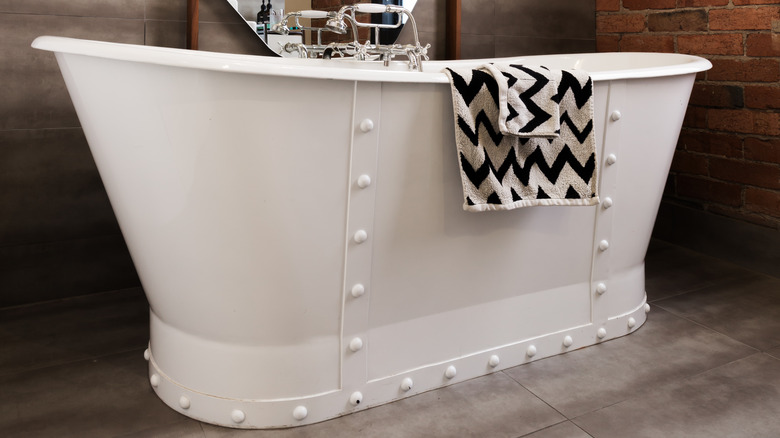 Jodie Johnson/Shutterstock
This freestanding tub is designed to look as though it's been bolted together. It's the perfect tub to complete an industrial-designed bathroom, and its bright white color is a good contrast to the darker shades.
27. Pretty in red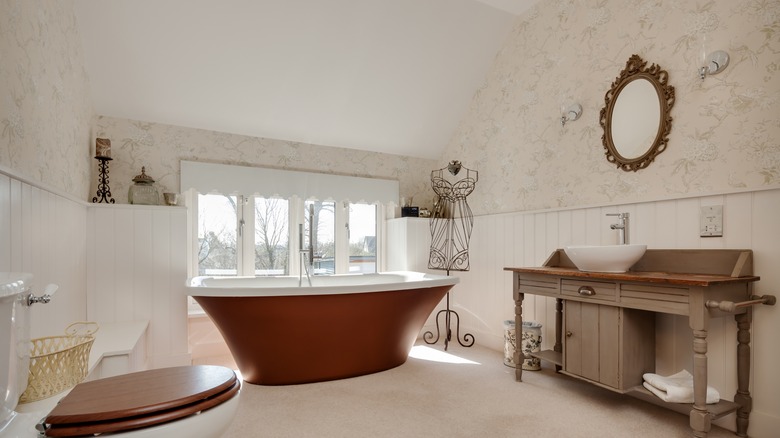 Mike Higginson/Shutterstock
This red, freestanding bathtub is the perfect shade for this bathroom, and it complements the warm colors on the walls and furniture while bringing in a pop of much-needed color. 
28. Ambient lighting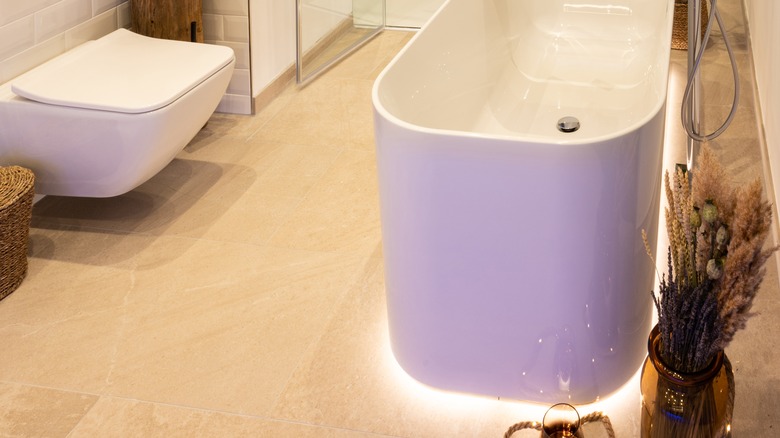 Daniel Beckemeier/Shutterstock
This freestanding tub can create super relaxing vibes as it emits ambient lighting from beneath. With the lights turned off, you're sure to relax as you bathe with a soft glow of light radiating from the floor.
29. Freestanding sink and tub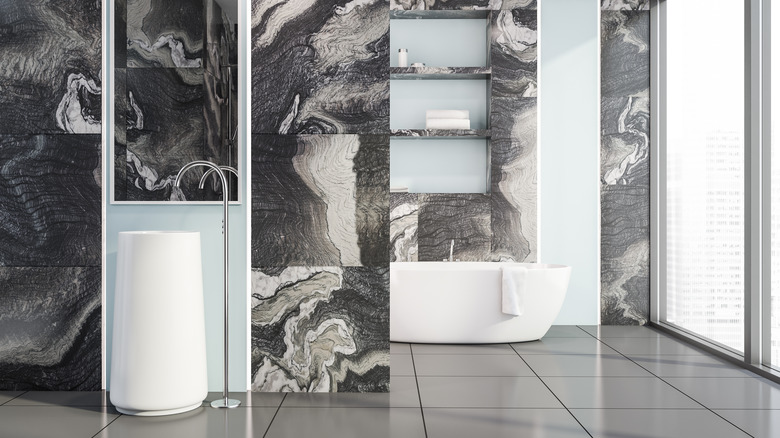 ImageFlow/Shutterstock
This bathroom has gone the extra mile and has not only a freestanding tub but also a freestanding sink. This contemporary design is open and spacious, as neither the tub nor sink takes up too much space.
30. Bubbles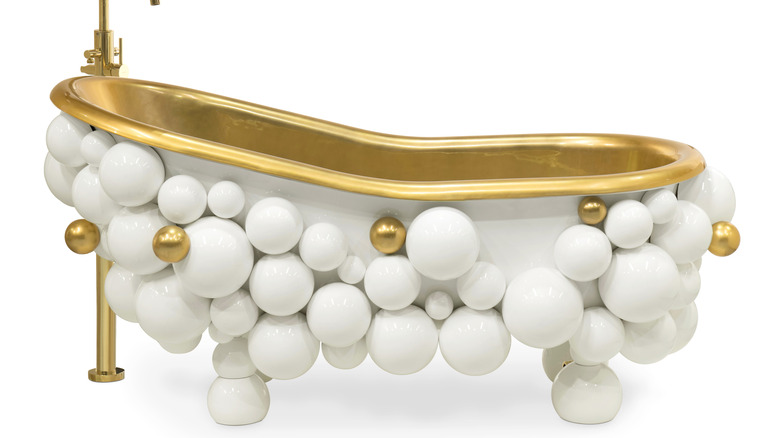 WakoPako/Shutterstock
If you want something a bit more eccentric, this may be the freestanding tub for you. The tub looks like it's been taken over by a plethora of bubbles with little golden peals scattered randomly.