20 Beautiful Bathroom Lighting Ideas
Gieves Anderson Whether you're plotting a major renovation or simply looking to add more versatility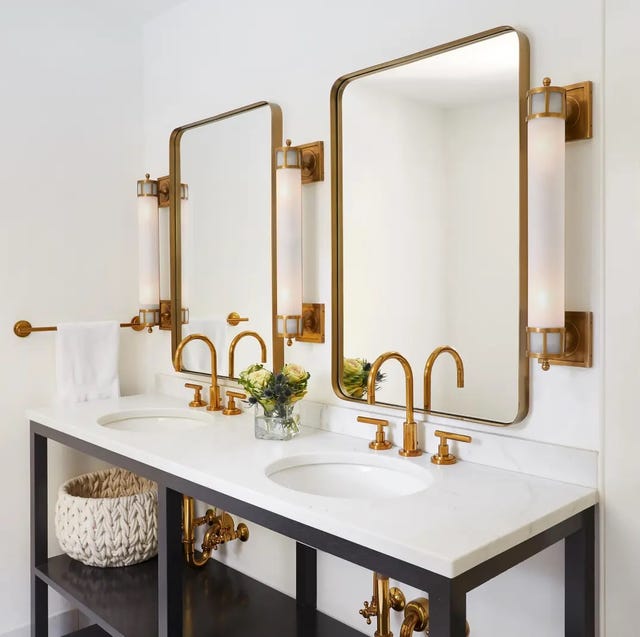 Gieves Anderson
Whether you're plotting a major renovation or simply looking to add more versatility to your bath, you'll need to consider bathroom lighting ideas to transform your space. Insufficient illumination can lead to grooming mishaps, while harsh lighting can quell spa-like auras. The right lighting not only lends function to a bathroom retreat, but wakes it up—a must when it comes to shaking off that early morning daze!
Top interior designers use a wide variety of fixture options—wall sconces, flush mounts and overhead installations, to name a few—to architect the perfect lighting scheme in bathrooms. Follow their lead and choose a chandelier to hang over a tub, or flank a vanity mirror with twin wall sconces. To manufacture a spa experience, call on a floor lamp. You can set one beside a bathtub (bubbles and all!) to curate unexpected mood lighting. And, of course, nothing beats natural lighting. Take full advantage of sun-filled windows and select airy window treatments and reflective, mirrored surfaces that are perfect for dispersing light all over your room.
Learn from the best and cull inspiration from the timeless bathroom lighting ideas ahead. As you'll find, there's no shortage of ideas when it comes to hardware, luminance and so much more. Whether it be a crystal chandelier, an understated flush mount or an out-of-left-field floor lamp, these designs showcase the wide range of bathroom lighting options.
Advertisement – Continue Reading Below
1
Cool & Crisp
A crystal chandelier is the epitome of sophistication in this fresh and airy bathroom designed by Crystal Blackshaw.
2
Heart of Gold
In this sun-kissed space designed by interior firm LKID, an inverted sconce is just the understated touch this dazzling bathroom needs.
3
Blue and Breezy
In this crisp, baby blue bathroom, design firm Hendricks Churchill proves that lighting doesn't have to steal the show.
4
Bungalow Drama
A single milk glass pendant lends classic charm to this striking bungalow bathroom teed up by interior firm reDesign home.
5
Collected Eclectic
If you're opposed to installing fixtures in your bathroom, follow design firm Interiors by Patrick's lead and simply opt for an eye-catching floor lamp.
6
Doppelgänger
Matching vanities, gold-framed mirrors and shade pendants make for perfect symmetry in this white-on-white bathroom designed by the Chicago-based firm Centered by Design.
7
A Grand Entrance
A brass, leaf chandelier and eccentric, mosaic tiles emulate the tropics in this cheery bathroom designed by Courtnay Tartt Elias.
8
Seeing Double
To create this casually eclectic powder room, Los Angeles-based firm Ayromloo Design employed a black and white lattice wall tile, blue and gold accents, and a simple globe pendant.
9
Bronze Glory
Design firm Craig & Co. applied a rich bronze to the walls of this powder room for an all-encompassing sense of warmth.
10
Jewel Box
A modern, three-globe chandelier makes a striking statement in this moody, emerald bathroom designed by Crystal Blackshaw.
11
Cookies 'N Cream
Dramatic, geometric wall sconces perfectly complement the luxe atmosphere of this marble-filled bathroom designed by the West Hollywood-based KES Studio.
12
Three Cheers
To bring even light to this recessed vanity space, designer Summer Thornton outfitted it in three shaded wallchieres.
13
Royal Highness
Gilded glamour is on full display in this bathroom designed by New York-based designer Charlotte Moss. Gilded accents, glass wall sconces and a bombe vanity all usher in an aura of the theatrical.
14
Subway Chic
A sophisticated swing arm sconce is the perfect complement to a subway tile chair rail and a penny tile floor in this guest bath teed up by Stefani Stein.
15
Simply Modern
Gold-accented globe sconces, matching mirrors and chevron wall tiles help elevate this master bath designed by KitchenLab Interiors.
16
Leading Light
To build on top of this bathroom's moody atmosphere, studio CAK installed LED sconces to bring in evocative light.
17
Green Glow
In this whimsical powder room designed by Kim Scodro, a single wall lamp illuminates the mesmerizing, green and gold wallpaper.
18
Simple and Clean
Streamlined fittings and sleek wall sconces make this room by Brooke Moorhead feel crisp and casual.
19
Blue Waves
SH Interiors opted for a sputnik flush mount and geometric wall sconce in this brilliant, cobalt-colored bath.
20
Forest Green
A modern hurricane-lamp style wall sconce energizes this sophisticated retreat cued up by designer Ruben Marquez.
This content is created and maintained by a third party, and imported onto this page to help users provide their email addresses. You may be able to find more information about this and similar content at piano.io
Advertisement – Continue Reading Below